Rather fitting that the last post of the National Blog Writing Month, is the first day of the Pagan New Year. I enjoyed trying to get myself to blog every day and I was really pretty successful at it...I skipped/missed/a day or two, but managed to catch up with the rest of the class.
Samhain is a

Gaelic

festival marking the end of the yearly

harvest

season and the beginning of

Winter

or the "darker half" of the year. Most commonly it is held on 31 October–1 November, or halfway between the

Autumn Equinox

and the

Winter Solstice

. Along with

Imbolc(02February)

,

Beltane (01May)

and

Lughnasadh(02August)

it makes up the four Gaelic seasonal festivals. It was observed in

Ireland

,

Scotland

and the

Isle of Man

. Kindred festivals were held at the same time of year in other

Celtic

lands; for example the

Brythonic

Calan Gaeaf

(in

Wales

),

Kalan Gwav

(in

Cornwall

) and Kalan Goañv (in

Brittany

).
It's the last of the Harvest Festivals of us Pagans. Our first is Lammas/Lughnasadh, then is Mabon(21September-ish)and the last is Samhain. Lammas is for harvesting the grain. Mabon is the fruits, like grapes and wine and Samhain is for the meat. It was more cost effective to slaughter most of the animals before the winter, especially your larger livestock, like cattle, sheep and swine.
Samhain (like Beltane) was seen as a time when the Veil Between the Worlds thinned

enough for the souls of the dead, and other beings, to come into our world. Feasts were had, at which the souls of dead kin were beckoned to attend and a place set at the table for them. It has thus been likened to a

festival of the dead, like El Dia de Los Muertos on 01/02November

. People also took steps to protect themselves from harmful spirits, which is thought to have led to the custom of

guising

. It's known these days as trick or treating.If you dressed up scarier than the things that might cross over, they'd leave you alone.
I usually have an altar up for Samhain, but this past year my FIL has crossed as has a few of my on line friends, so I will set one up for El Dia instead. It honours your ancestors and family that have died. On the altars are marigolds, sugar skulls,cards, pictures, items that were from your family, and their favourite food or drinks.
Mine would have Meatball subs and Mac and Cheese, I think.
El Dia stems from an ancient Aztec Holiday honouring the Lady of the Underworld, Mictecacihuatl.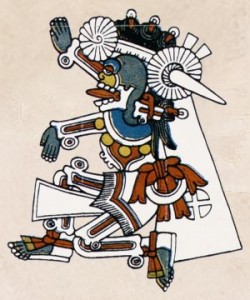 Welp, that's my last post for NaBloWriMo. Hope you've enjoyed reading what I've written as much as I've enjoyed reading you alls.
Tomorrow begins NaNoWriMo...so we'll see how THAT goes this year.