We're sitting here in our warm little house with electricity. We have a bit of water in the cellar, but nowheres NEAR as much as you'd think. Thank the Gods.
It started out with the wind last night and a few drops of rain. We had a couple of gusts this after that were just amazing.
Looking at the local news and the Weather Channel and such, I'm amazed that things have been going on so smoothly.
A pier in Kill Devil Hills, NC, fell in:
There were pics I saw of Atlantic City which were just amazing too: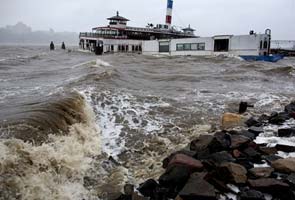 Some of the old Boardwalk got swept away. :(
It would've been nice if my sister had left the Boardwalk and taken Snooki and company... pfft.
The Big Apple had prepared. They closed all the subways at 7PM last night. Good move, I think.
This was Red Hook, in Brooklyn:
Freaking amazing isn't it?!The guy on the weather channel just said the water in Battery Park is almost 12 feet high and threatening the subway system.
Sandy Hook in NJ has water almost 2 and a half feet over their record. Yikes!!
We actually were pretty prepared up here too. Deval closed down basically the whole state. They also just closed down the Mystic Tobin Bridge after sending the tolltakers home. The Sagamore and Bourne Bridges on the Cape were gonna be closed too, if the wind gusts stayed at 75 or more. I don't like going over bridges on a good day, and this isn't a good day.
I put Obelisk out early this morning, moved the trash barrels, and she was back in before I turned around. sheesh.
The experts are saying that it's a "Franken-Storm" because it's part of the hurricane, part of a cold front, and a high that's blocking the whole mess. And it's being compared with "the Perfect Storm" of 91...the one that got turned into a movie with George Clooney and one of the Wahlberg boys. It sorta reminds me of the Blizzard of 78 which I was around for too.
That was actually filmed on the Nawth Sho-ah up in Gloucester, pronounced Glaw-stah, for you outta townahs. ;)
I have friends in New Jersey, CT, my best friend lives in MD. I had a friend call last night from Alabama wanting to know how we were. He saw on the Weather Channel that we were expecting Sandy. I know more folks who live in New York State and one on Lake Erie itself...she's expecting hell...
One of my friends in NH lost her power this after. My SIL lives a bit north-er than her and was getting nothing.
We had the lights flicker just a bit ago. The surge guard went off and DS' computer and the fish tanks. DS is pissing and moaning that it won't stop beeping. Like it's a freakin conspiracy against him by the universe. ugh...gonna be a long night...
I have been offering up prayers for all my East Coast buddies. I really hope everyone comes through okay.